Biography
For the happy few, art and life are indistinguishable - Stendhal
My life has been full, with family and a career in teaching, but the arts in general and the visual arts in particular have remained a constant, at the heart of things.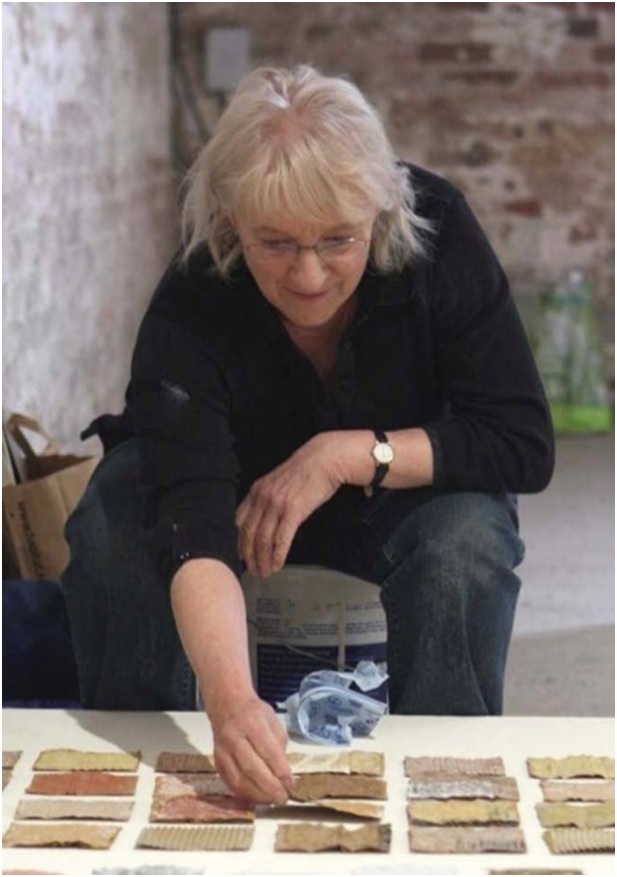 Always, I drew and painted. At college, in London, where I trained as a primary teacher, art was my main subject but it was the challenge of cross-curricular teaching that interested me.
Being a teacher and raising children curtailed personal artistic possibilities. Then my circumstances changed, I moved to Leicestershire, and opportunities opened up.
I joined Leicester University Studio, eventually exhibiting there. My children left home and a leap forward came with my acceptance on a 2 year experimental, ideas- led, advanced art course at Leicester University Attenborough Centre, This gave me new ways of thinking and working. It also offered experience of curating an exhibition. Out of this grew g8artists with whom I worked for a number of years.

Retirement from teaching meant more time to think: what direction did I want to go? What was important to me?

Over the years I have been influenced by artists as diverse as Samuel Palmer, Bonnard, Peter Doig, Jasper Johns, Tony Swain, Rauschenberg and Anselm Keifer!

My eye sees a landscape or an interior at any one time as a continuous scene where I can focus on particular points of interest, fast forward or replay, though never returning to the exact moment in time. Memories of seasonal changes and knowledge of its history inform my looking. I take photographs, but these isolated images hold one framed, moment and can only relate to each other in terms of overlap or information provided by the viewer. This point of dislocation and fractured memory, where each image makes sense in isolation but resonates with others to make an internal landscape is where I begin.

I often work on projects over a number of years, sometimes simultaneously. Ideas follow a narrative begun by me but often left open-ended so I can return to them in the future.
The culmination of work inspired by The National Forest was marked by two solo exhibitions, one at The Atkins Gallery, Hinckley, Leicestershire and the other at Bank Street Arts, Sheffield in 2015. Images featured Ticknall Limeyards, now a SSSI reclaimed by nature, and the effect of new tree planting on the landscape.
Small-scale installation work around the idea of protection used the very materials that safeguard newly planted trees. I often combine materials including digital, photographic or gel transfer prints. These images may then be painted or drawn into to form the final piece. Or stand alone.
Such methods were used in work shown in 'What Remains' at The Coffin Factory, Jewellery Quarter, Birmingham, in 2016, a title that refers to what is left of the Coffin Works, what is left in the minds of people who worked there and the memories in our own minds of people we have known and lost.
Similar thoughts attend my current work, inspired by The Dower House garden, Morville, which has evolved slowly over five years. It reflects my interest in Katherine Swift's creation of a garden that is not only a personal response to the history of the place but an ongoing celebration of that story.